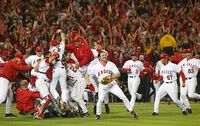 Los Angeles Angels of Anaheim

As an Angels fan I go back to 1979 when, as a 12-year-old visitor from Detroit I got to witness part of the "Yes We Can!" frenzy at Anaheim Stadium. As all Angels fans know, the last couple of decades have had their ups and downs but since the 2002 World Series triumph, there has been no better place to watch a game than at the corner of State College and Katella.
After Arte Moreno took over the franchise in 2003, the consensus of most fans I know has been that he is a God-send. A true "Fans Owner". His first official act as new owner was to lower the price of beer! This guy is no fool. Last year he aquired the
leagues' top player
, he proved he would open his wallet to put the best possible product on the field. What more could any fan want?
So now a kerfuffle has erupted over his move to change the name of the team from
Anaheim Angels
to
The Los Angeles Angels of Anaheim
. For an in-depth explanation of the legal problems he faced with this move, click
here
. I'm more annoyed at the reaction of fans complaining about the name. It's ridiculous.
To anyone in Orange County, this team has always been the
California Angels
, their moniker for three decades. Just like the stadium has always been
The Big A.
No one ever really called it Edison Field just because Disney sold the naming rights.
If Moreno says he needs to call this team 'Los Angeles' to help him
market the team
, thus allowing more revenue for players like Guerrero, then fine. He's earned the benefit of the doubt. True fans just call them the Angels or the Halos anyway, what does it matter to us?